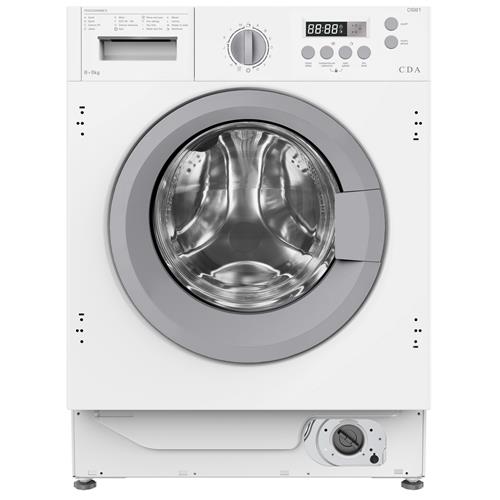 CI981 8+6kg Integrated washer dryer
The CI981 in an integrated 8 + 6kg washer dryer. This huge washing and drying lo READ MORE...ad is perfect for large families and saves space by incorporation 2 appliances in one. This washer dryer also comes with many handy features including a 15 minute quick wash if you are in a hurry and a delicate programme for those more fragile pieces that you want to protect. ... READ LESS...
Integrated Washer Dryers from CDA
The ultimate in space-saving ingenuity, an integrated washer dryer offers a full laundry package that can be installed in one kitchen cabinet behind a cupboard door, out of sight.

Not everyone has got the room in their home for both a washing machine and a tumble dryer. That doesn't mean that you should have to compromise on the convenience that these appliances bring. 

With a combination washer dryer, you can enjoy the best of both with an all-in-one solution that fits into your home and lifestyle.
Laundry Programmes to Protect Your Clothes
Our built-in washer dryers are packed full of programmes to tailor your wash cycle to protect your clothes.

There are options for cottons, synthetics, anti-allergy and eco cycles all preprogrammed for your convenience. And if you're in a hurry, there's a quick wash that will have your clothes tumbled clean in just 15 minutes.

And if you need even more control, there are variable spin cycles and temperature controls, you can care for your delicates and keep your towels soft with a few button presses. 

For more information on the different spin speed settings, visit our guide to laundry programme features to see what the numbers all mean and what setting is best for which type of laundry load.

They also feature a delay timer so that you can load up your machine and go about your day without having to worry about the washing getting in done. 

You can pre-set your appliance to wash either when you turn in for the night and tariffs are cheaper, or you could set it to finish at a particular time so it's done and you're ready to unload the machine as soon as you return home.

Taking care of your appliance shouldn't be a chore which is why our washer dryers even feature a handy drum cleaning programme for good maintenance. You can find tips to help you keep your machine at its best over on our guide to washing machine care.
Integrated Washer Dryer's Big Enough For The Whole Family
One of the common concerns about combined washer dryers is that their small drum size means they can't cope with the demands of an active household and their dirty clothes.

Our CI981 8+6kg integrated washer dryer has a large 8kg wash and 6kg drying load capacity – which is larger than average for most washer dryers. The larger capacity makes it perfect for the larger family who require a little more from their integrated laundry appliances.

We've loaded it with 16 programmes to give you the choice of functions and features that best suit your washing requirements. Add to that a 1400rpm spin speed, as well as variable spin and temperature control, you can accurately care for your laundry with every wash.

Our washer dryers have additional, helpful features like anti-crease, variable drying, total aquastop and anti-flooding safety included as standard – to look after your clothes and your home.


Impressive Energy Efficiency
As well as being stylish, our performance packed washer dryers are powerful and energy-efficient. 

The key to being truly climate-friendly is to make sure you aren't wasting energy powering an unnecessarily big laundry appliance though. So take a look at our capacity guide to find what washing and drying capacity you really need, versus economy with water, energy and money.


Are washer dryers any good?
If you're short on space, a combined washer and dryer can be a lifesaver. They can also make laundry day less of a hassle, as you only have to load up your washing once to get it washed and dried.

As well as saving the effort that takes, they also save time and are an all-round way of making your life that little bit easier.


Does a washer dryer combo need to be vented?
In most instances, a combination washer-dryer won't need to be vented in the same way a freestanding tumble dryer often does. 

Instead, they work as condenser tumble dryers do. This means the steam created by drying clothes is caught and collected as condensation within the machine. 

Though this means that the tank which collects the water will need regular emptying, many people prefer a condenser dryer compared to a vented dryer. This is usually because they can be placed anywhere there is access to plumbing and electricity, without needing access to the outside for heated air to escape.


How to Install a Washer Dryer
When it comes to installing an integrated washer dryer, it's always easier to ask a professional to do it. 

They will be able to do it quickly and make it look simple. Doing it yourself can be much more complicated if you're not a seasoned DIYer.

If you do decide to tackle the installation yourself, you should follow the detailed instructions in the user manual supplied. Different machines may have different requirements. 

Make sure you read the instructions fully before you start. You should also collect everything that you might need, as plumbing in a machine can be a fiddly job and you won't want to leave halfway to fetch a forgotten tool.
Register Your New CDA Washer Dryer
If you've decided a built in washer dryer from CDA is right for your kitchen, make sure you register your appliance to activate your warranty. We offer a standard two year labour warranty and a five years parts warranty so you can rest assured we're on hand to make sure your washer dryer stays in top condition.


Get in Touch With CDA
If you have questions about any of our laundry appliances, a member of our team will be more than happy to help so get in touch today.