EDD62BL 60cm downdraft extractor
The CDA EDD62BL is a sleek and super effective downdraft extractor that's the pe READ MORE...rfect choice for a minimalist super modern kitchen as it slips away below the worktop when not in use. The EDD62BL has 3 speeds with a touch control glass panel. It also has a 15 minute timer meaning there is no need to turn off the extractor after cooking.... READ LESS...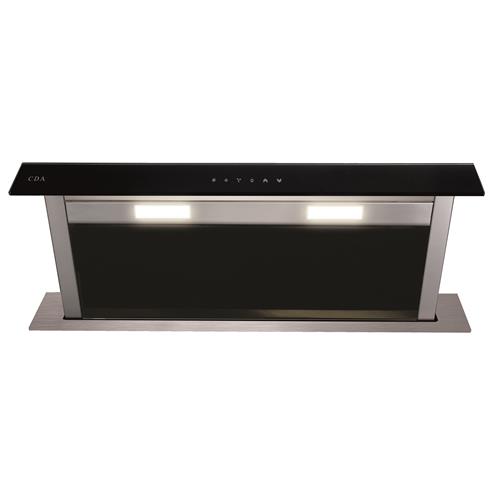 EDD92BL 90cm down draft extractor
The CDA EDD92BL is a sleek and super effective downdraft extractor that's the pe READ MORE...rfect choice for a minimalist super modern kitchen as it slips away below the worktop when not in use. The EDD92BL has 3 speeds with a touch control glass panel. It also has a 15 minute timer meaning there is no need to turn off the extractor after cooking.... READ LESS...
Downdraft Extractors from CDA
Sleek, streamlined and stylish, a CDA downdraft extractor is a kitchen modification well worth investing in. Downdraft extractors offer some of the most powerful extraction rates in our entire kitchen extractor fan range. 

What makes downdraft extractors so special is that despite their powerful extraction, they aren't a bulky appliance that's going to take up lots of space in your kitchen. When not in use, downdraft cooker hoods easily slide down beneath your work surface to leave an uninterrupted line throughout your kitchen. 

If you need to be conscious of space, have low ceilings or just prefer a clean, minimalist look then a downdraft extractor fan is the perfect choice for you. 

While many downdraft extractor fans on the market come with a separate motor, CDA's downdraft cooker hoods come complete with everything you need to install them. All you'll need to do is make sure to replace your charcoal filters if you choose to recirculate rather than duct to the outside to ensure your cooker hood is operating in optimal condition. 
What is a downdraft extractor fan?  
A downdraft extractor is one of the most modern styles of extractor fan available. Downdraft extractor fans are installed next to your hob and actually sit in the empty cupboard space underneath. When in use, they will rise from the countertop to extract steam, grease and food odours from the side of your hob rather than from above like other types of cooker hood. Once you are finished cooking, you can simply turn them off where they will then descend back underneath the worktop surface.

Because they're only visible when they're in use, downdraft extractor fans are just as at home in traditional kitchens as they are in more contemporary kitchens. Downdraft cooker hoods are ideal for both wall-flush worktops and units as well as kitchen islands where you want a clear eye line across the surface. 

We have two downdraft extractor models which make excellent additions to any kitchen.

The EDD62BL is a compact 60cm downdraft cooker hood that can be installed either to the side, or behind your hob, giving you flexibility on installation. 

We also have a larger version with the EDD92BL extractor fan. This 90cm downdraft extractor is perfectly suited for larger hobs and island units and looks especially striking when set against a 90cm linear induction hob.


How do downdraft cooker hoods work?
We think that your kitchen should work around you, so our downdraft extractors have been made with flexibility in mind. You have the choice to hide your cooker hood when not in use, or leave it up as an interesting focal point for your kitchen. When it's not in use, you can simply press a touch control glass button to slide it down and out of sight behind your kitchen counter. 

As you'd expect from something as modern looking as the downdraft extractor fans, they're incredibly powerful and filled with extra performance boosting features. The most popular features for our customers are:


Timers:

While it may not seem like the most exciting feature, this tends to be one our customers come to love more than any other. Often after you finish cooking, you want to be able to leave your extractor fan running to extract any lingering smells and grease. This doesn't mean you want to jump up in the middle of dinner to turn off the extractor fan though! With a timer, you can enjoy your food and your extractor will automatically switch itself off.

Four extraction rates:

Some meals will create more grease and steam than others, with multiple extraction rates, you won't need to use more energy than you need to. You can choose the matching air filtration rate for your requirements.

Only on show when you want:

Downdraft extractors don't need to be on show all the time like

chimney cooker hoods

so you can maintain a minimalist look throughout your kitchen.

Glass touch control panel:

This sleek design feature is easy to use and easier to clean as it can be simply wiped down. 
For more information on the functions available across our extractor fan range, check out our buying guide which details the features and functions available. 


Where do downdraft extractors vent to?
Many people are surprised to learn that you can choose to duct your downdraft extractor to the outside or recirculate. Both of our downdraft cooker hoods are available as recirculated extractor fans or ducted extractor fans. 

Ducted extractor fans will need a clear path in which you can lay the ducting to an outside wall. If installing a downdraft extractor into an island, there will be some consideration as to where the ducting may need to go as often it requires going under the floor. 

Ducted extractor fans don't filter the air, instead they use a powerful motor to extract the air filled with grease particles, steam and food odours and carry them outside. Because they need to carry the air outside. 

Recirculated extractor fans are slightly simpler to install as they don't require any ducting. Instead, they filter grease through a mesh grease filter and catch food odours and moisture in their charcoal filters. These charcoal filters do need to be replaced, and we recommend replacing them every six months or so.


How do I install a downdraft extractor?
While it might look like a cutting edge piece of technology, downdraft cooker hoods are actually quite easy to install. All you need to install a downdraft extractor fan in your home is cupboard space allocated underneath the work surface for your appliance to slide down into. All of the mechanics will be hidden away, leaving you with a sleek and chic glass control panel that sits flush on your workshop.

You can find more information about specific installation requirements in your downdraft extractor user manual.


Register Your CDA Downdraft Extractor Warranty
A new kitchen appliance is always a big purchase, after all, it's something that you will use almost daily for many years to come! We want all of our customers to have complete peace of mind when choosing a CDA appliance which is why we offer a standard two year labour warranty and five years part warranty across our entire range. 

All you need to do to take advantage of this is remember to register your product online.


Get in Touch With CDA
Have any queries about our downdraft extractor hoods, or any of our household appliances at all? Get in touch with us today and a friendly member of our team will be more than happy to help.