Integrated Washing Machines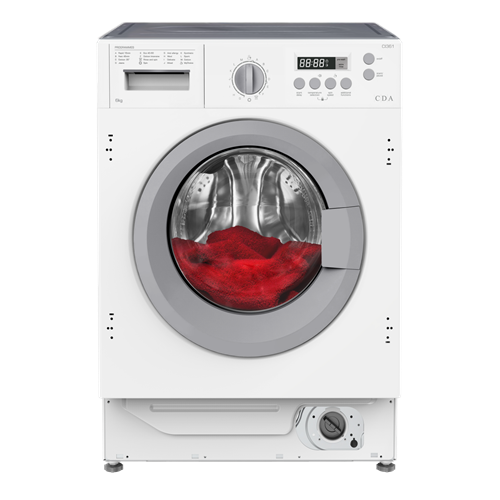 CI361 6kg Integrated washing machine
The CI361 is a 6kg 1200rpm spin speed integrated washing machine. This built in READ MORE...appliance is perfect for smaller households.The handy delay timer means that you can set your washing machine to end when it is convenient for you. It also comes with many handy programmes including a speedy 15 minute wash and delicate cycle for those more fragile items. ... READ LESS...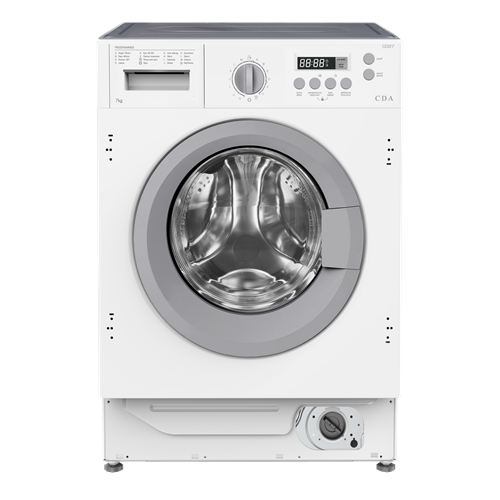 CI327 Integrated washing machine
The CI327 has 7kg of drum space and a 1400 spin speed. The white LED display mak READ MORE...es for a modern look, and safety features include child lock, overflow protection and foam control. There are 16 programmes which include an ECO programme, Rapid and Anti-allergy.... READ LESS...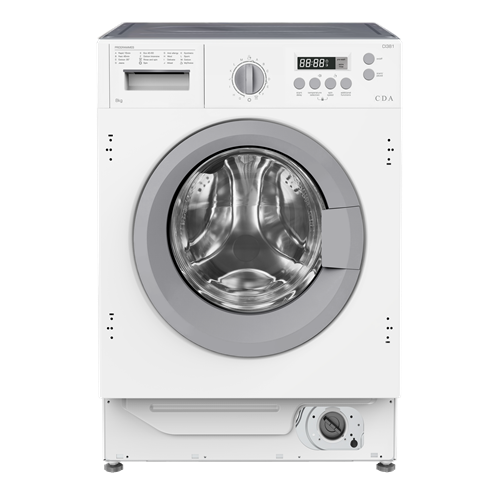 CI381 8kg Integrated washing machine
The CI381 Is a 8kg 1400rpm spin speed integrated washing machine. It is perfect READ MORE...for medium to large sized house holds with its 8kg wash load. The variable spin and temperature functions means that you can adapt your cycle what ever your laundry needs and the 15 minute quick wash means you can get clothes clean in a flash without compromising. ... READ LESS...
Integrated Washing Machines from CDA
Perfectly integrated and designed to perform brilliantly time and time again, our range of built-in washing machines fit discreetly behind your kitchen cabinetry and offer advanced technology to work both effectively and efficiently.

While you want your washing machine to be there whenever you need it, you don't necessarily want to see it every day. That's why we've created a small range of integrated washing machines that exceed expectations in both form and function.

All of our built-in washers are supplied with fixing kits allowing you to attach your kitchen cabinet doors to the front, so you can neatly stow it away within your kitchen without fuss.


A Washing Machine That Meets Your Needs
Our integrated washing machines are available with different drum capacities to suit different household sizes.

The CI361 6kg Integrated washing machine is a neat little appliance with an impressive performance. It offers a 1200rpm spin speed and 11 programmes to choose from for washing any type of laundry load. It can hold up to 6kg which is ample for most small households.

In a rush? No problem as this machine can manage a quick wash in just 15 minutes. There are also specialist functions for delicates, woollen clothes and for when you need an intensive wash to sort out those stubborn stains.

 The CI381 8kg Integrated washing machine has a larger 8kg drum for those households that have a bigger laundry basket.

As well as a larger capacity, this model has a faster 1400rpm spin speed to cope with the extra clothing and the water it uses. There are 16 programmes to choose from and a delay timer so that you can set your washing to start at a time that suits you, so you can continue about your day without having to worry about putting the washing on.

If you're not sure what size machine you need for your house, see our washing machine capacity guide for advice.
Features to Safeguard Your Kitchen
We believe that prevention is better than cure and with that we've incorporated a few nifty safety features into our washing machines. 

In the unlikely event that something goes wrong, total aquastop and anti-flooding technology will ensure that the water is cut off and damage to your home is prevented – giving you peace of mind if you've ever experienced a kitchen flood in the past.


Washing Programmes to Get All Your Clothes Clean
Using the programmes correctly will help you get the absolute best from your laundry appliances.

To find out exactly which laundry spin programme you need for your load, take a look at our spin speed guide to match up your garments and wash type to the functions on your appliance.

With delay timers, adjustable spin speeds and safety features like aquastop to protect from any accidents, CDA washing machines are efficient, practical and brilliant at looking after your laundry time and time again. 

Their LED displays make these models easy to use and the selection of programmes allows you to adjust your wash style to the job at hand.

We've tried to think of everything to make laundry less of a chore and help you get the wash results you are looking for, however for more laundry tips, visit our washing machine advice hub.


Can any washing machine be integrated?
You may be tempted to try and use a freestanding washing machine inside your kitchen cupboards instead of a purpose made integrated washer and theoretically, it is possible. However, there will be issues.

Most freestanding washing machines are too deep to sit flush with your cabinets under a worktop when taking into account the pipework at the back. Integrated appliances are deliberately designed to fit within kitchen cabinetry. 

They may also struggle to accommodate the plinth that runs across the bottom of your cabinets. Again this is accounted for when buying an integrated washing machine. 

If you would like an appliance to be integrated into your cabinet, it's usually a good idea to purchase one made for that purpose.


How to Clean a Washing Machine
Keeping your washing machine clean is pretty important. After all, how can you expect it to get your clothes clean if dirt is building up inside the drum?

Luckily, cleaning your washing machine isn't too hard. It is possible to purchase commercial cleaners that you add to your detergent drawer before putting a wash on. 

You can also do it using items found in most homes. Pop white vinegar in the drawer and run your hottest, longest cycle. Then sprinkle some bicarbonate of soda in the drum, and run the same cycle again.

Your washing machine should be left sparkling, ready to keep your clothes fresh and stain free.


Get in Touch With CDA
Washing machines are a necessity in modern life so buying a new one can be an intimidating prospect. That's why we're here to support you with every step of the process.

If you have any questions that are still unanswered, you can always contact us and speak to a member of our sales team who will be happy to help you make the perfect purchase.

And, once you've registered your new CDA appliance, we'll continue to offer our support through a 5-year parts and 2-year labour warranty. This way, you can trust that even if something does go wrong, we'll still have your back.