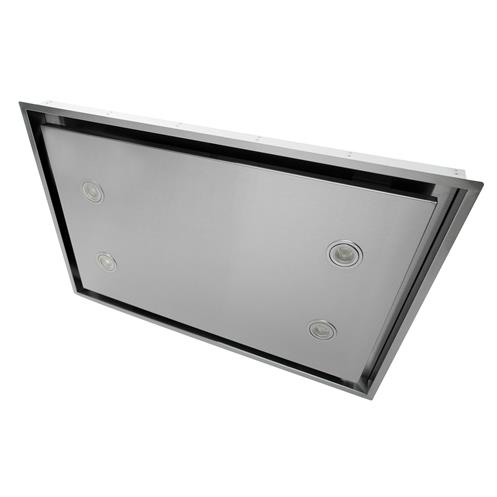 EVX90SS 90cm ceiling extractor
The EVX90SS ceiling extractor will give your kitchen a minimalist and stylish lo READ MORE...ok whilst allowing you to make the most of your kitchen space. By being installed in the ceiling, you are left with free space above your hob and discreet, yet powerful extraction above. It comes with many features such as a timer function, aluminium grease filters, 2 LED lights for clear illumination and an intensive setting for when extra extraction is required.... READ LESS...
Ceiling Extractors from CDA
Ceiling cooker hoods are the perfect choice if you want an efficient way of dealing with grease, steam and food odour in a sleek, minimalist way. 

The CDA ceiling extractor fan range offers a statement style with sleek designs that pair aesthetic with practicality. This range is absolutely perfect for kitchens with a modern, minimalist style. If you have a traditional kitchen, you'll find our ceiling cooker hoods add a contemporary twist without drawing too much attention. 

The EV90BL ceiling extractor fan sits flush to the ceiling for an uninterrupted, open-plan look in your kitchen. Just because this design is compact doesn't mean it's not powerful as this model can be ducted outside. The star lighting is not only a super stylish design feature but it's also functional and is bright enough to illuminate the cooking area and beyond. The extractor itself is packed with practical features that will help it to become an essential element of your home.

Ceiling extractor fans are ideal for homes where an uninterrupted view around the kitchen living space will highlight the design features in your home, a ceiling extractor can make up part of a functional yet unobtrusive kitchen styling. 


There's nothing like the smell of food simmering away, whether it's aromatic herbs or rich spices! However, if that smell sticks around for a few days afterwards, it can become less and less appetising. 

This food odour is carried in steam and grease particles which then settle on counters, cabinets and soft furnishing. Over time this leaves behind unpleasant smells, moisture and you'll even find layers of grease building up on counter tops. Not only does this make cleaning more difficult, it can encourage the growth of mould and bacteria and the moisture can cause damage to paintwork. 

An extractor fan removes the grease, moisture and food odours from the air and either ducts them outside or filters them before recirculating the air back into your kitchen. This leaves you with a cleaner, fresher and more hygienic kitchen. 


Specialist Ceiling Extractor Fans 
While the main purpose of a ceiling extractor fan is to remove steam, grease and odour through filter and extractions, CDA's ceiling extractors go so much further. 

The EVX90SS ceiling extractor and EV90BL ceiling extractor have timer functions that will quickly become one of your favourite kitchen features. Timers are useful to avoid needing to get up halfway through dinner to turn the extractor off after use! Instead you can set the timer to continue cleaning the air after cooking and it will automatically turn itself off. 

Adjustable extraction speeds allow you to monitor and respond to the exact requirements of your cooking too. You may find some food creates more steam than others and you can easily tweak your extraction rates to be as powerful as you need.

The clean air function also promotes a healthy living environment by periodically clearing and filtering pollutants from your living space – leaving the air in your home clean and clear for your family. 


How do you operate a ceiling extractor fan?
You might like the idea of a ceiling extractor fan but wonder, just exactly how you're meant to turn it on! Don't worry, you won't need to pull out a step ladder every time you want to use your ceiling hood. 

To make sure they're as convenient to use as possible, all of our ceiling cooker hoods come with remote controls. They're easy to use and allow you to turn the speed of your cooker hood up or down, turn on the illumination lights, or even select one of the specialist functions from anywhere in your kitchen with just the press of a button!

For more information on what size, style and type of extractor will best suit your home, visit our buying guide to explore the options available and find your perfect ceiling cooker hood.


Can you have a ducted ceiling hood?
Yes. It's standard for ceiling extractors to be ducted due to their location in the room and the additional power needed to function. Ducted kitchen extractor fans are more powerful so many keen home chefs prefer them despite the additional noise. 

Due to the nature of installation, the need to change a recirculation filter would be quite a job, so ducting eliminates this ongoing task. Both the EVX90SS ceiling extractor and EV90BL ceiling extractor are available with a ducting kit as an addition. 

You'll need to make sure that you have enough space within your ceiling void for installation but you can download your chosen ceiling extractor fans user manual to find out more.


Can I install a ceiling extractor fan above an island hob?
Yes! One of the advantages of a ceiling extractor fan is they're very flexible in where they can be installed. If you have a hob that is installed against a wall, or a central island hob, you can install a ceiling extractor fan above it. 

Ceiling extractors are a particularly good option if you have low ceilings as they sit flush, removing the need to make spacial considerations for chimney hoods and the like.

You'll need to make sure there is enough space within your ceiling void, and if you are installing a ducted ceiling extractor that there is an appropriate route to lay the ducting to exit out of an external kitchen wall. 


Register Your CDA Ceiling Extractor Warranty
An extractor fan is an essential kitchen appliance so you want to make sure it's in top condition. At CDA, we offer a standard two year labour warranty and five years part warranty so you can be assured your extractor fan will stay in top condition for years to come. 

To make sure you're entitled to this additional support, register your product online after purchase.   


Get in Touch With CDA
Have a question about a CDA ceiling extractor? or any of our other household appliances? We're here to help! Get in touch with a friendly member of our customer support team today.