Built-in Double Ovens from CDA
Find you're always running out of space in the oven? Or perhaps you're an enthusiastic home chef who needs to have one meal grilling while another meal bakes? It might be time to upgrade to a CDA double oven. Double ovens give you the ultimate flexibility when it comes to cooking. 

You might just find that double ovens are far more space efficient than you first imagined. It will depend on your kitchen layout how you'll want to install your new double oven. You can install a built-in double oven at eye level, perfect for keen bakers who want to keep an eye on their creations. Another option is a built-under double oven which can be fitted like a traditional single oven, beneath your hob. 

We have designed a range of styles so you can find a double oven that perfectly suits your needs. Look for the phrase built-in for 'eye-level' installation and the phrase built-under for double oven models that will fit underneath your countertop.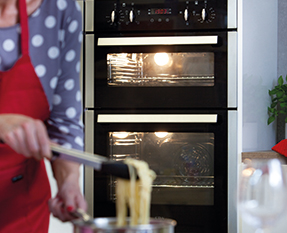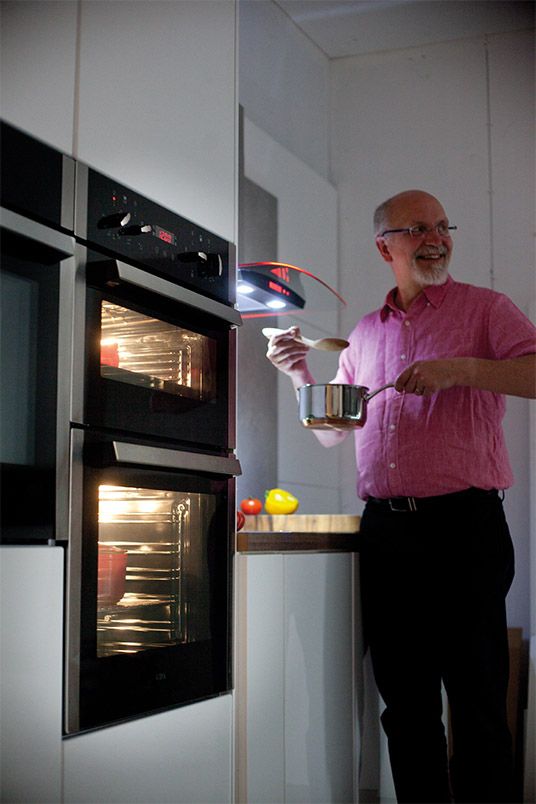 Built-In Double Ovens to Maximise Kitchen Space
Our built-in double oven models, like the DC941BL built-in double oven, feature a full-sized main oven cavity as well as a slightly smaller conventional oven cavity on top. Built-in double ovens are installed off the floor to give you convenient access to both oven cavities. 

Another benefit is both oven cavities have grilling capabilities so you can use the flexible cooking functions however you want to. 

Our integrated double oven models, like the DC741SS built-under double oven, also feature a full-sized main oven cavity and a second, slightly smaller conventional oven cavity but they're designed to be installed directly underneath your work surface. These are ideal if you have an open plan kitchen or your kitchen predominantly uses lower-level units in its design as they can keep the eye line clear.

Both styles of double oven offer you a lot of convenience and flexibility with cooking. You can easily cook dishes at different temperatures, keep food and plates warm, or even prepare an entirely separate course simultaneously.

Both our built-in double ovens and built-under double ovens offer a wide range of features. To help make sure you understand exactly what each function is so you can choose a double oven that does everything you need, take a look at our comprehensive oven function guide. 


---
Styles & Colour Combinations for Every Kitchen
Whether you have a traditional or modern kitchen aesthetic, you'll find CDA double ovens sleek designs will be the perfect addition. There are plenty of colour and style combinations to consider, including our signature black glass and brushed steel design as well as an all black oven for a sleek, minimalist look. 

Whatever style you choose, you can rest assured it will live up to the quality you expect from a CDA appliance. All of our double oven models feature double, or triple, glazing safety glass, ergonomically designed control knobs and additional safety features such as anti-tilting shelves. 


Excellent Energy Ratings Across the Whole CDA Double Oven Range
All of our double ovens have excellent energy ratings to make sure that you can be kind to the environment and get the best value for money at home with reduced energy bills. Even the internal halogen lighting inside of our double ovens is bright and efficient for practicality and energy efficiency.


Find the Right Double Oven to Suit Your Needs
Not entirely sure what oven will best suit your family's needs? We're here to help. You can check out our guide to oven types which will help you dispel common oven myths and explain oven jargon so you can make an informed decision about which oven is right for your home.


---
Why choose an electric double oven?
While gas hobs remain a firm favourite for professional and home chefs alike, electric has pretty much become the standard fuel source for ovens. This is because electric ovens offer the most energy efficiency, precise temperature controls and an even cooking experience. 

This is especially true of our fan assisted ovens, like the DC941SS Built-In Double Oven, which uses a fan to push hot air around the cavity. This ensures an even temperature throughout the entire cavity so that all of your food is cooked at the exact same temperature. 

Fan ovens' ability for precise temperature control and even cooking makes them especially popular with bakers where it's very important that all of the food is able to rise at the same time. Many of our home bakers also take advantage of our range of warming drawers to proof bread before baking.


What's the best way to clean an electric double oven?
While we all love a sparkling clean oven, not many of us love the cleaning needed to get it in that state! All of our double ovens have been designed with your lifestyle in mind, which is why they all feature easy clean enamel interiors.

Easy clean enamel interiors cut down on the need for scrubbing by creating an incredibly smooth surface that grease and dirt struggle to cling to. Food particles and grease can still build up but as long as you give them a regular clean, you won't need to spend hours on your hands and knees scrubbing! 

Easy clean enamel will stop your oven from becoming dirty quickly and make maintenance cleaning much easier. 


How do I install a double oven?
It will depend if you are installing a built-in double oven or a built-under double oven. 

Built-in double ovens are installed into housing which will match your existing cabinets, usually with the oven cavities eye-level to you. Built-under double ovens will be installed underneath your countertop, traditionally directly underneath your hob. It's important when choosing your double oven you get the right one for your needs as a built-in double oven can't be built-under due to its side. When installing your double oven, it's vital to ensure there is proper ventilation space so that it can function efficiently. 

You can find installation instructions in your user manual. If you've lost your user manual, you can go to the product page and download a PDF copy from the 'downloads' tab. Be aware though, electric ovens still need to be earthed and they must be fitted by a competent person. We recommend having your appliance connected by a qualified electrician who is a member of the N.I.C.E.I.C.