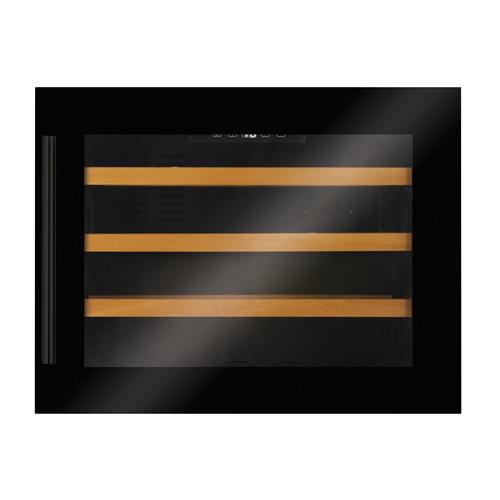 FWV452BL Integrated compact wine cooler
The FWV452 is a compact integrated wine cooler with a 24 bottle capacity, wooden READ MORE... slide out shelves, electronic temperature control, UV protected smoked toughened glass door, triple glazed, LED interior lighting and an over temperature alarm for maintaining perfect storage conditions. This is the perfect addition to any functional kitchen design.... READ LESS...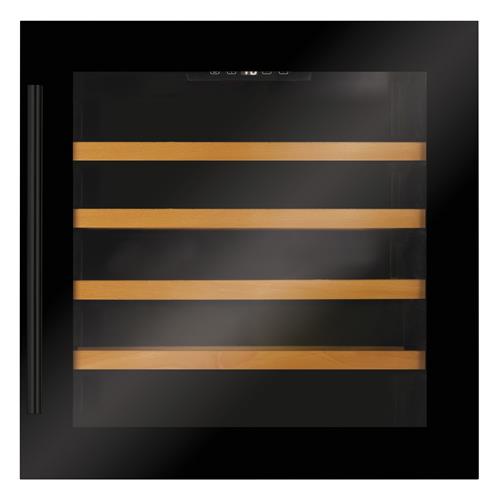 FWV601BL Integrated wine cooler
The FWV601BL is a single zone integrated 60x60 wine cooler with a large 40 bottl READ MORE...e capacity. This design is the perfect size to sit alongside a single oven and fits into a standard single oven housing unit.... READ LESS...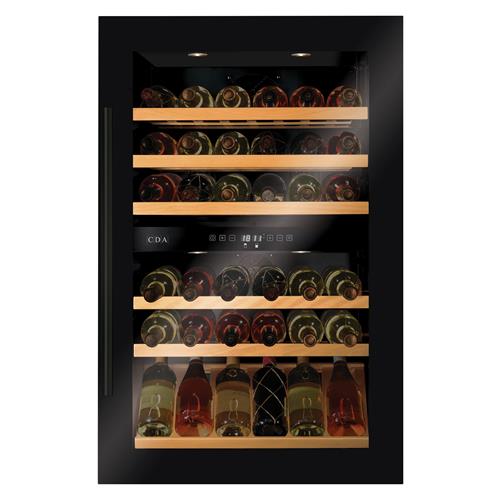 FWV902BL Integrated wine cooler
The FWV902 is an integrated, dual zone wine cooler. Capable of holding up to 57 READ MORE...bottles, with LED lighting and triple UV protected smoked glass door, it will ensure your wine is kept in optimal conditions. It comes complete with 5 wooden slide out shelves, an electronic temperature control with a memory function and alarm, and a display shelf to showcase your favourite wines.... READ LESS...
Integrated Wine Coolers from CDA
Our integrated wine coolers are perfect for storing your wine collection discreetly. 

Controlling humidity, light, vibrations and temperature is done silently and effectively whilst the exterior in either black or brushed steel finishes off your kitchen perfectly. 


Wine Cooler Storage For People Serious About Wine
Storing wine in the fridge is simply a no-no for anyone serious about their collection. 

Fluctuations in temperature, light and strong food odours are all less than ideal environmental factors for your wine. The holy grail in wine storage is consistency, that is why we have created a collection of coolers that monitor UV, humidity, temperature and vibration closely to protect and preserve your bottles. 

To learn more about the importance of storing wine correctly, check out our wine cooler storage guide.


Wine Coolers That Fit Seamlessly Into Your Kitchen
Integrating a wine cooler into your kitchen design is perfect for a streamlined look. Off the kitchen floor and opening just like a cupboard, our integrated wine coolers create functional cabinetry in your kitchen that frees up fridge space and stores wine in perfect conditions.

We have created a range of sizes that will suit every home, design and storage requirement. 

Starting with the compact built-in wine cooler, which comes in a stylish black glass finish and stores up to 24 Bordeaux-sized bottles. 

Our integrated wine cooler collection comes with a whole host of technical features. UV protective smoked glass, triple glazed doors, electronic temperature control, a compressor-driven anti-vibration design, over-temperature alarms and a humidifier have all been collated to produce a functional, stylish and highly effective wine storage solution.

Our 60cm square built-in wine cooler is completely unique in design and a UK market first by CDA. The 60cm x 60cm style means that it lines up perfectly with a built-in single oven, helping you to create the streamlined bank of appliances that looks so great in modern kitchen design. 

Storing up to 40 bottles, this appliance can house your red or white collection and the perfect environment created using electronic controls. This model features specialist insulation that means it can be housed adjacent to an oven, with no detrimental effect on performance. The wine cooler will not have to work harder to cool your wine while the oven is on. This means that you can create the exact look you are going for without having to compromise on performance.


An Integrated Wine Cooler to House Your Whole Collection
The largest of our integrated wine cooler models is our in-column wine cooler, which is perfect for building into a tall wall unit. Storing up to 57 bottles it can house your entire collection and also features 2 separate cooling zones to protect both red and white wines simultaneously.

Whichever model you go for, we have created a user-friendly wine cooler buying guide to help you choose the right model for your kitchen. Once installed we have tips, tricks and advice on how to store your wine collection perfectly, keep your cooler in great condition and even how to keep wine at the perfect temperature.


What is an integrated wine cooler?
A built-in wine fridge is one that is designed to be housed inside kitchen cabinets. Unlike most integrated appliances, you don't fit a cabinet door to the front of a built-in or integrated wine cooler, as most people appreciate their wine collections as a visual addition as well as a taste experience.

For this reason, all our integrated wine coolers are designed with sleek black or brushed steel fronts, so that they still look stylish and complement your other appliances.


Do wine fridges use a lot of electricity?
A wine fridge is actually a lot more energy efficient to run than your average refrigerator. That's because the best temperature to store wine is not as low as the temperature you need to store food. 

On average a wine cooler needs around 80-100 watts to run, whereas a full-size fridge will need anything from 350 watts to 800 watts. Having a separate wine cooler will help you save space in your fridge for food that really needs that extra chill, while using a lot less electricity to cool your wine.


A Wine Cooler You Can Trust
Changes and fluctuations can damage your wine, which is why we're proud to make wine coolers you can trust. We're so confident in the quality of our appliances that we offer 5-year parts and 2-year labour guarantee on all of our wine coolers that are registered within 30 days of purchase.

For questions and how-to guides on any appliance in the CDA range, visit our frequently asked questions section for the most commonly asked questions on cookers, hobs, coolers and laundry appliances.