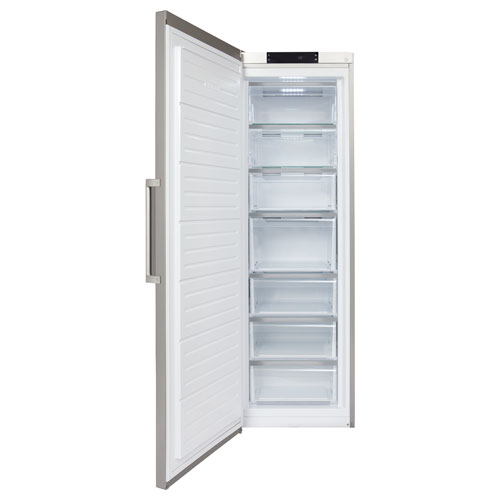 FF881SC Freestanding full height frost free freezer
The FF881SC is a full height freestanding freezer. It comes with a 4 star freeze READ MORE...r rating for safe fresh food freezing. Its 7 compartments offer capacious food storage options and, coupled with the FF821SC full larder fridge, it will offer maximum food storage capability for your home.... READ LESS...
Freestanding Freezers from CDA
Our freestanding freezers can be positioned anywhere in your home to suit your needs. Not only that, they'll safely bring fresh items down to a more long term storage temperature quickly, using our fast freeze function.

Stock up and store your favourite freezable meals to give you peace of mind that there will always be something tasty for dinner, no matter how hectic life gets.
Freedom to Move
A freestanding upright freezer is a flexible choice.

Our FF881SC freestanding larder freezer comes with adjustable height feet and reversible doors. You can pop it anywhere in your kitchen and, if you decide to rearrange, you can move it minutes to a new position without worry.

It also comes with an impressive energy efficiency rating (F) to keep your bills low, a fast-freeze option to get your food frozen super quick. There are even two trays for ice cubes hidden inside, to take one more thing off your mind when your freezer arrives.


Space to Stock Up
Our larder-style tall freezer is perfect for people with many mouths to feed. It has a 280ltr capacity, split into 7 spacious storage compartments. This is a freezer with plenty of space to stock all the food your family might need. Even if you like to bulk buy.

It also has a four-star rating. This means it will keep your frozen food fresh and safe to eat for 12 months, giving you a chance to rediscover any frozen items that fall forgotten to the back while they're still tasty.

For families who love to feast, the FF821SC freestanding larder fridge makes the perfect kitchen companion to our freestanding freezers. 
What should I look for when buying a freezer?
The two most important things to consider when buying a freezer are capacity and energy efficiency. These things are surprisingly intertwined.

Spend some time realistically deciding what size freezer you need. This is one time when getting the biggest capacity just-in-case is a false economy. 

An understocked freezer will perform very badly. It will take extra effort to keep it cold, and this can rack up energy bills surprisingly quickly. A freezer stuffed to the brim with frozen food won't fare much better either.

Investing in an energy-efficient freezer (rated F or above) that you will fill without overflowing, is a choice that will pay you back over months and years.

If you're looking to keep things small, then an under-counter freezer or an integrated in-column freezer, could be a better option.

Once you've settled on what freezer size you need, you can head over to our page on refrigeration features to identify any other features you want for your freezer.


Are frost-free freezers better?
The CDA freestanding full height freezer is frost-free. This means it has a built-in mechanism that helps prevent frost from building up inside.

We think freezers with frost-free technology are better because they are much lower maintenance. Defrosting your fridge to remove any frost build-up is a time-consuming task. With a frost-free freezer, any ice crystals that start to form are automatically melted away. All while keeping the contents of your freezer at a safe temperature.

Another reason we choose frost-free, is that it lessens the chance of freezer burn on your food. When ice forms on your food, it affects the texture and the taste and can leave it inedible.


What freezers are suitable for the garage?
Sheds, garages and other outbuildings might look like an attractive prospect to place a freezer you don't have space in the house for. Many people pop their appliances outside the kitchen, even outside the house, to free up precious space.

This is a bad idea though. Most appliances are built to function best at a minimum ambient temperature of 10℃. With the unpredictable and often unfavourable British weather, this means that keeping your appliances somewhere without access to heating is going to affect its performance.

At best it will shorten its lifespan. At worst they will stop functioning immediately. And for many manufacturers, keeping your freezer in a garage will even void the warranty. 


Guaranteed Quality from CDA
We offer a 5-year parts and 2-year labour warranty on all registered CDA refrigeration appliances. So you know that if you encounter problems, you're covered. 

But if you do have a worry and you're not ready to contact an engineer about it, you can also take a look at our refrigeration FAQ for support.

Our customer service team are always happy to help too, so if you would rather speak to someone for advice on which freezer to buy, you can contact us directly.