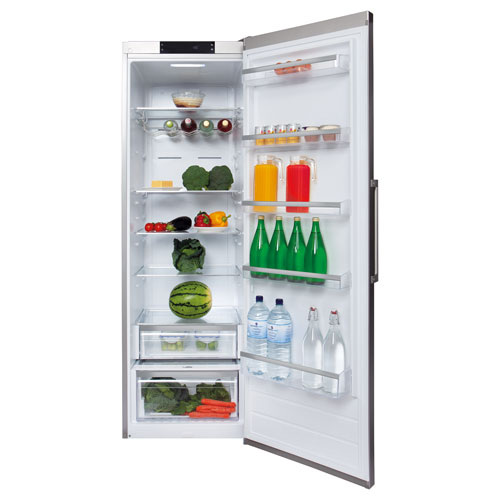 FF821SC Freestanding full height larder fridge
The FF821SC is a full height freestanding larder fridge.Its adjustable shelves o READ MORE...ffer flexible food storage and coupled with the FF881SC full height freezer will offer maximum food storage capability for your home.... READ LESS...
Freestanding Fridges From CDA
If you like fresh food ready to go, whenever you need it, our freestanding fridges will store meat, dairy, fruit and vegetables with compartments to separate them safely, whilst looking super stylish at the same time.

Our refrigeration range has been developed to offer energy-efficient and safe food storage that works quietly and effectively so that you never even have to think about it.


Freestanding Fridges for a Fully Flexible Home
With a CDA freestanding fridge, you have the freedom to place your appliances anywhere you wish. Whether there's a snug nook you're looking to fill in your kitchen or a spot in your utility room that you can't stand to waste, with a CDA freestanding fridge it's entirely your choice where you pop it.

Our fridges even have height-adjustable feet and reversible doors to help them slip simply into any spot.

If you need a fridge to fit an existing kitchen, or the scope to rearrange your space whenever you wish, a freestanding fridge from CDA is the answer. It leaves you free to change up your home and keep your kitchen exactly how you want it.


Flexible Food Storage Options
All our fridges come with adjustable glass shelves that you can move around to make the significant storage space work for you. There are also large crisper drawers to keep your fruit and vegetables fresh

Our LED lights are perfectly positioned to illuminate every nook and cranny and make sure none of your produce falls forgotten to mulch down to compost in a dark corner. 

If you're looking for tips on the best way to fill your fridge effectively and efficiently maximise the space, take a look at our refrigeration organisation guide. 


Enough Space to Stock Up for Your Whole Family
When you have to feed a whole family every day, a combined fridge freezer just doesn't have enough space. With meat, dairy, and a family's worth of five a day being kept cool, you can quickly run out of space even in a dedicated standalone fridge.

With our tall larder fridge, you get an enormous 316-litre capacity. As well as the flexibility of 5 adjustable drawers, you get five balconies in the door to hold all the juice, milk, and evening treats you could want. Plus two crisper drawers that will keep your fruit fresh and your veg crisp so you won't have to serve soggy salad or mushy berries to any already fussy eaters. Pair with a freestanding freezer to really maximise your food storage space.

If you're still not sure how much space you need, take a look at our guide to refrigeration capacity to help you figure it out.


Can a freestanding fridge be built in?
The nature of a freestanding fridge is that it stands separate from your cabinets and counters.

There is no reason why you couldn't design a kitchen to fit around a freestanding fridge. With cabinets above and to the sides, your fridge will seem more at home in the kitchen but still have the benefits of being freestanding.

But with this type of fridge, you won't ever be able to fully recreate the look of an integrated fridge. The main reason for this is ventilation, a certain level of air flow is required for a freestanding fridge which can be difficult to achieve if it's in an enclosed space, making it susceptible to overheating. Integrated fridges are specially designed to allow for this.

So if you want a fridge that slips away seamlessly into your kitchen, an integrated fridge will be a better choice.


Which freestanding fridge is best?
It is never easy to pinpoint a 'best' freestanding fridge. Instead, think about what requirements are most important to you.

One thing you should always consider when picking a fridge is energy efficiency. Inefficient refrigerators will use a lot of electricity, cranking up your energy bills unnecessarily. They can also contribute to climate change, so the planet will thank you for picking a fridge rated F or above too.

The beauty of a freestanding appliance is that you can place it anywhere. But, if you have a spot in mind then make sure you measure the space, including the depth as freestanding fridges tend to be deeper than integrated ones.


Choose an Appliance You Can Trust
We're confident in the quality of our appliances which is why we offer a 5-year warranty on all registered CDA freestanding fridges. You can read more about the CDA warranty or you can contact us directly with your questions.