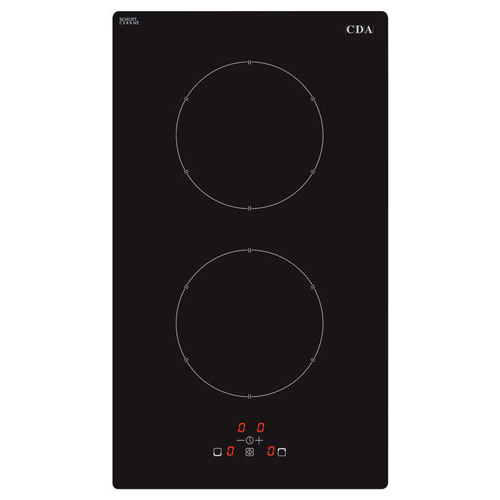 HN3621FR Domino two zone induction hob
The HN3621FR induction hob has a two zone domino layout which allows it to be in READ MORE...stalled alongside other models from our domino range. Combining domino hobs from either induction, gas, or electric means that you can create a personalised combination to suit your preferred cooking style.... READ LESS...
HC3621FR Domino two zone ceramic hob
The HC3621FR is a two zone ceramic domino hob. It comes in a stylish, frameless READ MORE...black glass design and features an LED display with touch controls for each cooking zone. A built-in timer allows to you set cooking times and our auto safety switch off feature is programmed in, to prevent the hob being left on. Nine power levels on each cooking zone allow quick adjustment of pans to boil, simmer, melt or even keep food warm. ... READ LESS...
Domino Hobs from CDA 
Your cooking space should be built around you and your needs, and that's where domino hobs can really come into their own. For those with small kitchens who don't need a lot of hob space, or those who just want to experiment with their cooking style, domino hobs are a great option. 

With two zone gas, ceramic and induction domino hobs available and even a handy griddle plate, they can be mixed and matched to create a cooking space designed around you and your cooking preferences.

Your cooking options are endless when you have the right kitchen appliances. If you want to expand your horizons, it's definitely worth considering a domino hob.


What is a Domino Hob?
A domino hob is a smaller, essentially half-sized hob that can be built into your work surface. 

Designed to offer the same standards of performance but on a smaller scale, they're usually 30cm wide. A two zone domino hob can be used as a stand alone appliance (making them a great choice for smaller kitchens and mobile homes) or can be paired with other hob models to add more flexibility when cooking. 

As every kitchen is different and each cook has their own preferences on style, function, and heat transfer type, domino hobs allow you to mix-and-match options for the perfect fit. You can choose from the fine, manual control of gas or rapid, thermostat controlled heating of ceramic glass and induction.


A Cooking Space That Works For You
Whether you're a seasoned chef or a novice, a domino hob allows you to personalise your cooking experience by choosing a design and function that fits in with the rest of your kitchen and your needs. 

If you'd prefer to have multiple methods of cooking, by combining different types of hobs together, you can have all the benefits of many hob types in one complete cooking unit.

Take for example the domino ceramic griddle hob. With 12 power levels and shatterproof top, this grill makes it easy to cook steaks, vegetables, chicken or fish to perfection! The clean surface is low maintenance too – making cooking quick and convenient for everyone who uses it.

Prefer to cook with gas? We have two options available to choose from. For those who prefer a more traditional look, we offer a 2 zone stainless steel gas domino hob that will fit seamlessly into any kitchen. 

If you'd prefer to go ultra modern, then our gas on glass domino hob is the one for you. With a toughened black glass top, minimalist cast iron pan supports and rotary controls, it's sure to make a statement. 

If electric is more your style but you want to keep that ultra modern, clean look, then we have you covered! We also offer an induction domino hob as well as a conventional ceramic domino hob, both of which have touch controls with residual heat indicators for precise, energy efficient cooking. 

Domino hobs may be small, but they're mighty! Designed to be installed easily, in smaller spaces, on island units and especially to be combined with one another. They allow you to create an entirely bespoke cooking area without the worry of having to find a standard size hob that offers all of the functions you need.
Get in Touch With CDA
If you have questions about our domino hobs, or any of our home appliances, a member of our team will be more than happy to help so get in touch today.